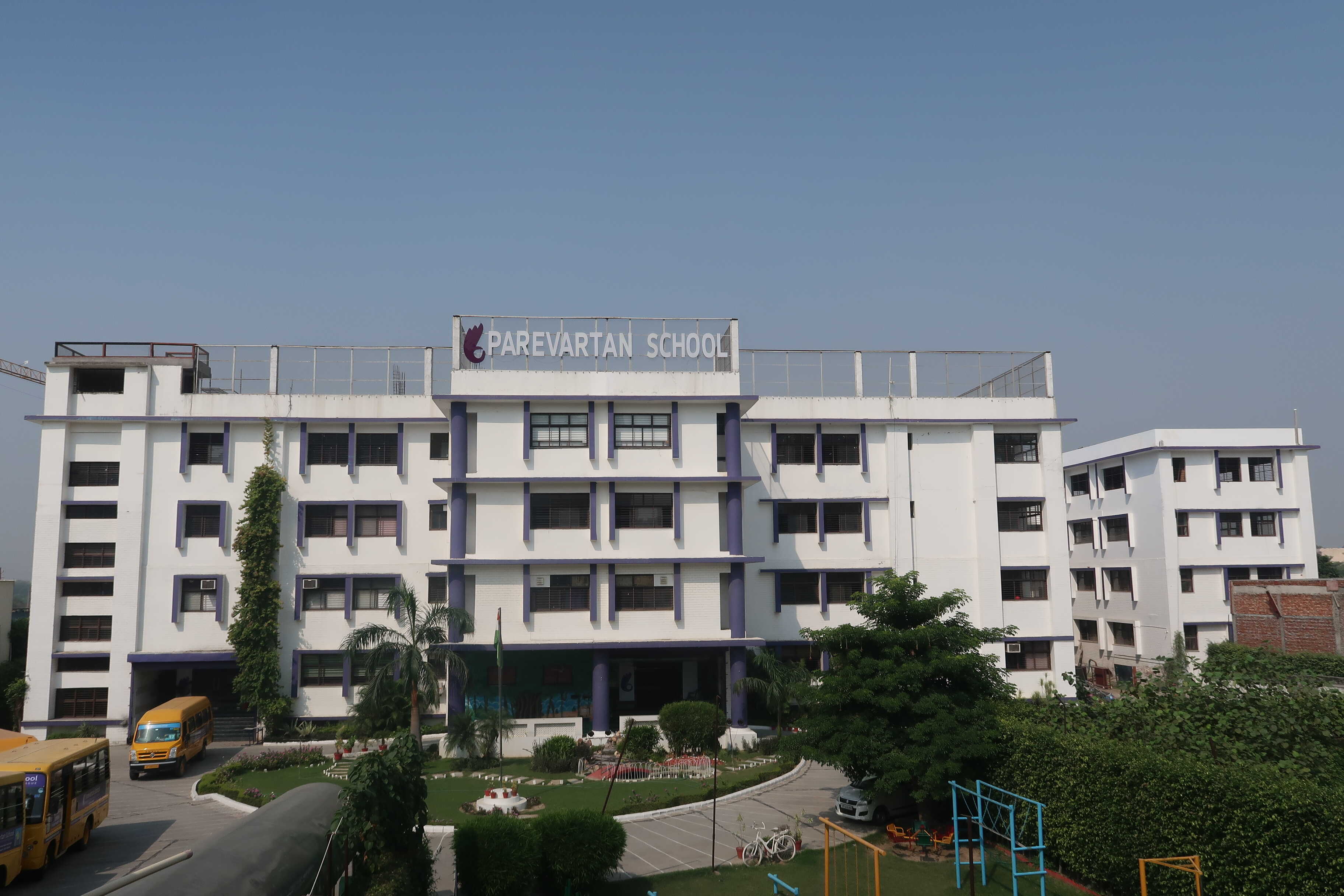 Parevartan is a CBSE affiliated Senior-Secondary school where wisdom comes through experiential learning. Our faculty members, whom we lovingly address as 'Gurumas' provide students with adequate opportunities to learn through interesting interactions and activities.
Parevartan School started its journey in 2003 under the guidance of our founders – Mrs. Vinu Chaudhri and Late Brig. V.S. Chaudhri., as an institution committed to provide an environment where young minds grow in knowledge, confidence and a belief in self. Since its first Board in the year 2017, the school has been delivering a 100% result, and all our shining stars prove that when worked with the true intention and under right guidance, nothing in this world is impossible to achieve. We at Parevartan follow the core values i.e. Satya , Ahimsa , Shanti , Prem and Dharam , with the philosophy of' Love all Serve all.'
We believe , that each child should benurtured with great love, eternally right values and a special touch that transforms everything. Our mod us operand is experiential learning that brings out the best in your child. For this reason we have adopted 'Educare' an enriching educational process that goes beyond books and results in 'education not merely for living but for life'.
OPEN PARENT-TEACHER INTERACTION FORUM : We at Parevartan School encourage and maintain an open dialogue between the Gurumas and parents on a regular basis.
MORE CARE PER CHILD : By maintaining a healthy teacher student ratio we ensure that each student gets a fair share of attention and care with higher level of love and mentorship.
SPORTS : Parevartan offers a wide array of sports facilities including outdoor / indoor sports such as football, basketball, skating, cricket, badminton, chess, table tennis, scrabble etc.
PERFORMING ARTS : We at Parevartan School take pride in giving to the society its youngest performers. Teeming with confidence and talent, our league of future actors, musicians, singers, dancers and orators have already started giving their award winning performances at zonal and state levels.
YOG : Yog is a science that has been an invaluable part of our culture since ages. It is an internal part of educational system and is practiced under the guidance of our experienced Yog trainer.
SOCIAL INITIATIVES : Today's children are socially very active. At Parevartan, we provide all such platforms for children to collaborate and find their own solutions to the problems in the environment. Inside school or out of it, there are ample of opportunities that we can create for them to feel confident that they are doing their bit. Parents are also encouraged to participate and motivate their children to grow up to be responsible and loved citizens.
EDUCARE : Discovering one's goodness is one of the most spiritually encouraging feelings on earth. So, values like caring and sharing, joy of giving, respect for elders, family values, and conserving our tradition natural resources, come naturally to our students.